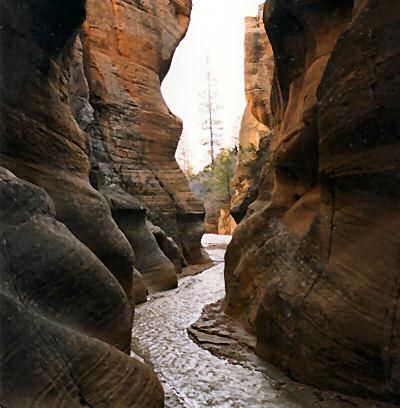 Photo by
Andif
.
This is a perfect picture of what writing's like sometimes, especially if we could add some white water to it. You're floating through a dark canyon, the current is fast, strong, scary,
exhilarating
. You keep moving, even if you're not sure it's such a good idea, even if you think your book's in trouble, because the words just keep coming and moving you forward. The cliffs rise precipitously on either side of you; you're really deep into it now, and there's no visible escape. Some of the time, you're excited and loving the trip. Some of the time you think despairingly, "Why did I ever think this was a good idea?! Why did I ever think I could write? Why would anybody ever want to read this crap?" And then suddenly, you're delivered into the sunshine, and you realize: hey, this stuff I just did--or some mysterious propelling power did--maybe it's not so awful, after all. "
Hallelujah
! Let's shove this boat on shore and pop some beers."
Here's to a
hallelujah
Tuesday. :)